If you read my last post, you'll know that I promised a fab prize giveaway thanks to the lovely people at
Fairy
. And here it is - just the thing to cheer up an otherwise boring Monday...
Fairy Non Bio has won Gold in the Best Baby Friendly Detergent category and Fairy Fabric Softener has also won Silver in the Best Baby Friendly Fabric Conditioner category at the Practical Parenting Awards 2010.
To celebrate, Fairy would like to offer a month's supply of Fairy Non Bio and Fairy Fabric Softener as well as £50 worth of Mothercare vouchers to one lucky reader of my blog, along with a month's supply of Fairy Non Bio and Fairy Fabric Softener for one runner up as well.

Caring for your baby's clothes by washing them with Fairy leaves you assured that they will be soft and

gentle next to your baby's delicate skin.
To be in with a chance of winning one of these two fabulous freebies, simply leave a comment at the bottom of this blog post and I'll randomly select a winner and announce back next Monday. Good luck everyone!
In other news, I have been poorly (boooooo) but now I'm better I have been knitting like crazy to try and catch up on my Christmas gifts. I have just finished the first of the most lush-feeling wrist warmers ever, knit using RYC Cashsoft DK and this
Ravelry pattern
. I'm so gutted I have to give them away, but as soon as all my gifts are done I'll be using the grey version of this lovely yarn that I have ordered and as long as it's in stock and reaches my letterbox I'll soon be knitting my own pair. For me. Just me. All mine. Mwah-ha-ha-ha-ha-ha.
They feel sooooo soft on my skin, I really want to keep them (but won't as they are for my lovely sister-in-law).
That reminds me, 'me' left a comment on a recent post to ask where she could find the pattern for these mitts I recently completed.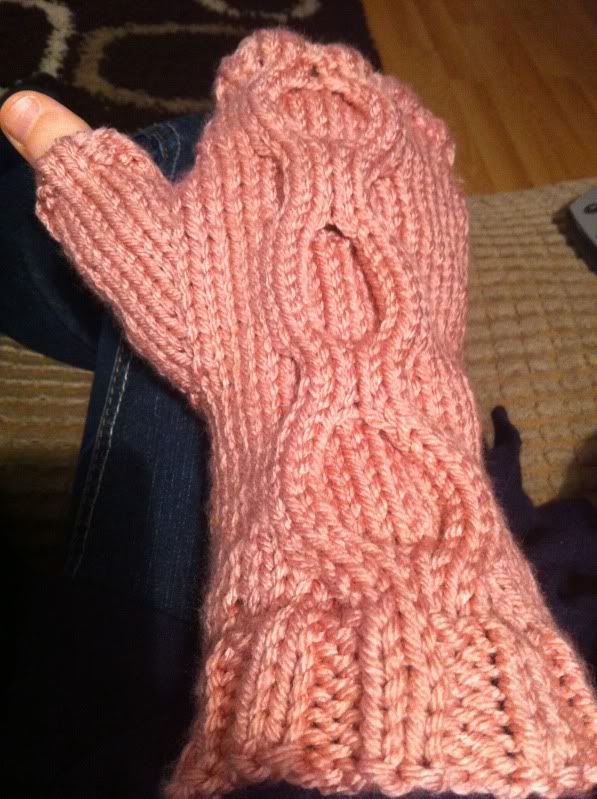 The pattern is called 'Ritzy Stable Mitts' and can be found on Ravelry
here
. Hope that helps! I will try and remember to link back to patterns every time from now on, sorry!
Right, off to knit another mitt, be right back soon and don't forget to enter that giveaway - you have to be in it to win it!
xXx
Terms and conditions:
·
To enter, simply leave a comment in response to this blog. This free prize draw is open to all residents in the UK over 18 years, excluding employees of Procter & Gamble UK, any affiliates or agents and the families of such employees and any other person connected with this promotion.
·
All entries received by midnight on Sunday 28th November will be entered into a Free Prize Draw, the first entry randomly selected by an independent person will win two bottles of Fairy Non Bio (18-wash size) two bottles of Fairy Fabric Softener (750ml variant) and one £50 Mothercare Voucher. The second entry randomly selected will win one bottle of Fairy Non Bio (18-wash size) and one bottle of Fairy Fabric Softener (750ml variant).
·
In the event the claim for a prize is not received by the Promoter within seven working days of such notification, the promoter reserves the right to select an alternative winner. Please allow 28 days for delivery of prize.