It's Wednesday, so that means time to share another Work in Progress over at
Tami's Amis
.
My current WIP is
Lauriel
, from my recently-acquired and already much-treasured copy of
Ysolda
Teague's
Little Red in the City
.
This colour in this picture is more accurate than the two photos below
I had chosen some lovely yarn -
Sublime Cashmere Merino Silk DK
- which cost more than I would normally spend on yarn for one garment, but I wanted this to be
really
lovely. And although it was knitting up slower than I thought/hoped it would, I was pleased with how it was coming along. Note the word '
was
' there.
Yesterday, during our weekly knitting meet-up, I noticed the yoke pattern on two of my friends' WIPs was a lot more defined than mine. I thought mine looked a little different due to the wool variation. But now I know it's not right, and I've realised why. I thought I was being clever by using the eastern style of stockinette stitch right from the start of the pattern, as Ysolda suggests to use as it makes your gauge more constant and the work neater. But unfortunately, this also means that the action to 'KBL' or knit through the back loop is cancelled out by the fact the stitch was already back-loop forward facing. Does this make any sense?! Anyway, it's not right.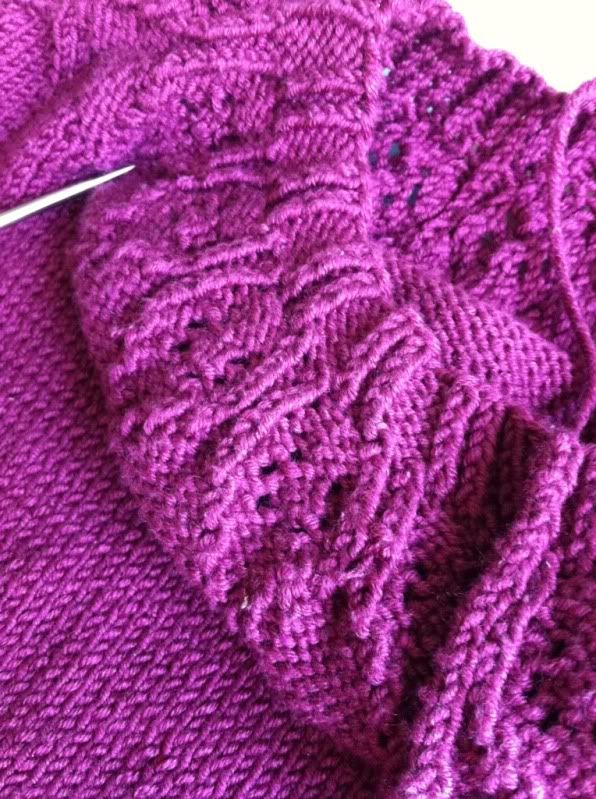 This has really disheartened me. It took me hours to do the yoke and I really took my time to ensure every stitch of the pattern was perfect, and I was so proud. But I wasn't totally happy with it, and now I've seen how it should look it's just going to bug me forever. But I've spent hours and hours and hours getting half way down the body and I really don't want to frog it and start over now. I never complete anything as it is, getting so little time to knit, and I'm not sure I'd ever find it in me to pick it back up or finish it. Sigh.
So, a question to those more experienced knitters out there. If you don't mind? Please? Would it be possible to go back later, un-do the cast on edge, frog the yoke section and either re-knit it upwards? Or knit the yoke separately and re-join it, perhaps using the three-needle bind-off technique on the wrong side? Or am I just kidding myself? Maybe I was kidding myself trying to take on something so pretty. Any suggestions would be really appreciated.
Sorry for the negativity. Just having a bad time right now, nothing major, I really should be grateful for what I have, my gorgeous boys and husband, but silly things like this are just the straw that broke the camel's back, everything is really getting to me and upsetting me - I really didn't need this. :(
Oh well, going to try and enjoy my last day off before a run of seven days at work tomorrow and head to Yorkshire Sculpture Park and hopefully forget my worries for a few hours. Or try at least!
xXx
P.S. I've scheduled a FO Friday blog post for Friday - and there'll be a giveaway too. Hope to see you then :)