First of all, a big thank you to everyone who left me a kind comment on Wednesday's WIP frog or not-to-frog dilemma post. It really helped to read all your lovely comments, and you'll be pleased to know I did frog the Lauriel and I have now re-started it from scratch. It was hard to do, but it was never going to be right in my head, and I wanted it to be perfect or not be anything at all - plus getting to use my new yarn winder certainly helped soften the blow a little.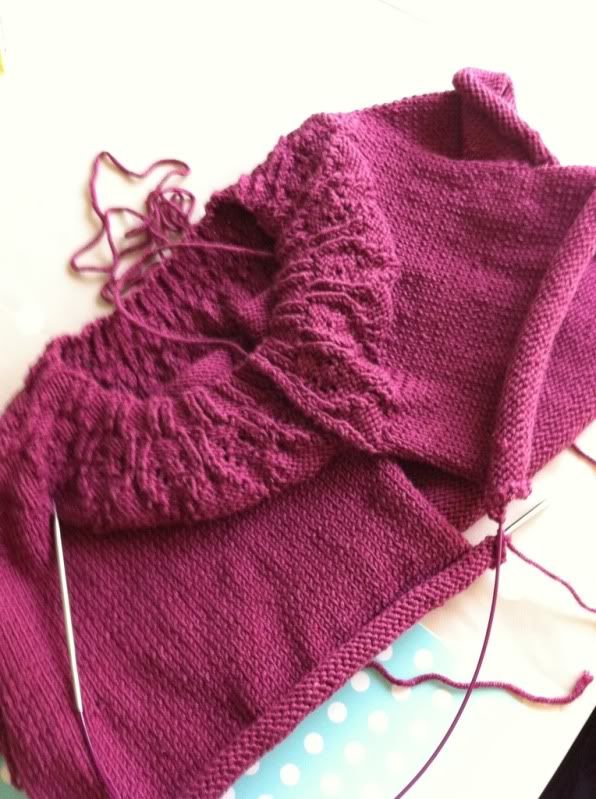 From this...
I had a little moment when I almost threw it across the room again yesterday, as the pattern just wasn't knitting in properly, again. But my lovely friends Hannah and Jenny came to my rescue with an emergency after-work knitting meet-up and I now know what to do, and it's looking a hundred times better already. Phew! Thank you girls!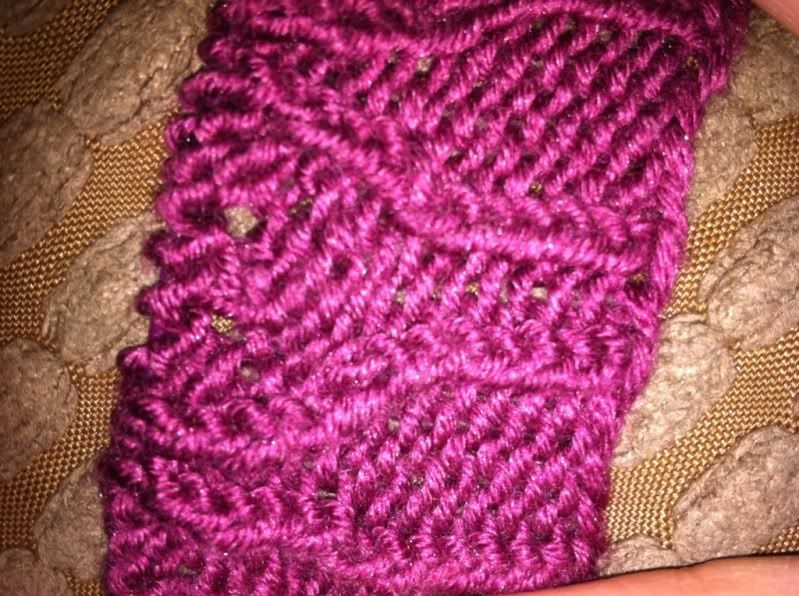 ... to this (can you see the continuous lines? Yay, me too!)
Can you tell I'm feeling a little better today? Maybe it's because I realised I'm lucky to have what I have, and to also have some good friends looking out for me - and I'm ready to say a big "screw you" to everyone and everything else. I'll find my own way. Ok, it might take a bit longer, and it might not be the scenic route, but I'll get there, just you see, and when I do it will be fabulous darling!
Anyway, the reason I'm supposed to be here is to share my latest FO with you. This one was a quick and very easy knit called
Sophia
and had two aims - using up some very cheap and easy wash yarn (Super Saver Solids I think) and to make a nice autumn-friendly top. Yes, I said autumn, it's in the air already I can just feel it.
And talking of garments, and washing, that leads me nicely on to my giveaway. The lovely people at Bold have launched a new 2-in-1 floral fragrance - Rose Blush & Peony. Oh my, it is absolutely lush! I have the powder (you can also get liquitabs and gel) and thanks to its unique scent-release technology it leaves my clothes smelling so summery all day long (I'm making the most of it before autumn really does set in!)
And to celebrate, for a limited time only, Bold are giving you the chance to win a lovely, exclusive floral print scarf by the London fashion designer Olivia Rubin. For your chance to win one, and get yourself a money-off coupon, simply visit
www.supersavvyme.com/Bold
And to thank all you lovely followers out there, you can also grab a second chance to win this one right here simply by leaving a comment on this post telling me what your favourite fragrance/smell is and why. Closing date is next Tuesday 23rd August (oooh that's my birthday, but I'm giving you the present!) at 23.59, and I'll announce the winner as soon as possible afterwards. Entries welcomed from any country - I'm happy to post wherever. Good luck :)
xXx