Sorry, sorry, sorry! I know I haven't posted in 11 days, I have been so busy decorating, sorting, knitting, scrapping and packing in as much as I could before I returned to full-time employment two days ago, yay!
Here's a rundown in pictures of what I have been up to...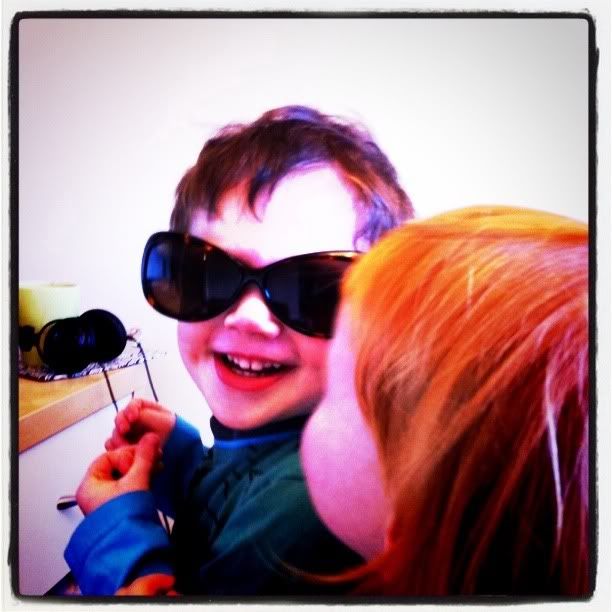 Looking after these two little monkeys (my Alex and a friend's little girl while she was also job hunting - she too has had interview successes this week, yay!)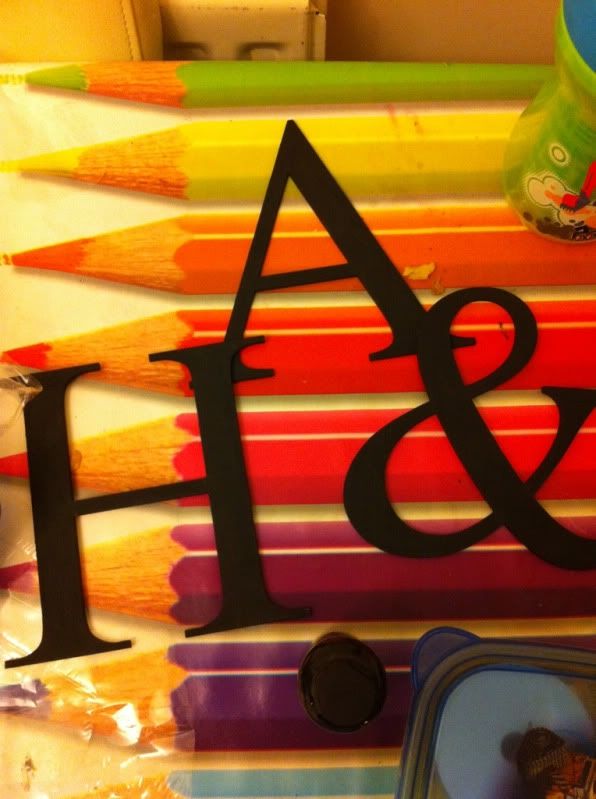 Painting these (and more) gorgeous laser-cut wooden letters, made and sent by the super lovely Sally. These will be going on my staircase wall, which I'm now considering painting a vintage paler khaki kinda colour and hanging black and white frames plus these monograms on. I have just painted the entire area white, but after a blog post I saw today from a very talented decor designer I'm having a little re-think.
A sneak preview of my (very almost) finished bedroom, only eight months after I started. I'm just waiting for some drawer handles and to hang the second blind and pair of curtains and it will be done. But in the meantime I'm enjoying it being clean, tidy and organised, which is very handy with me now working and requiring clean, ironed work wear at very early hours in the morning! I will post more photos of the finished bedroom as soon as it's done and when I can take some nice daylight-lit pictures.
I was itching to scrap a few days ago, so made use of these lovely pictures taken at Bristol Zoo during our New Year trip to see family in Bath. This was inspired by a layout on the Sketch2Scrap iPhone app (a must if you're both a scrapper and an iPhone owner!)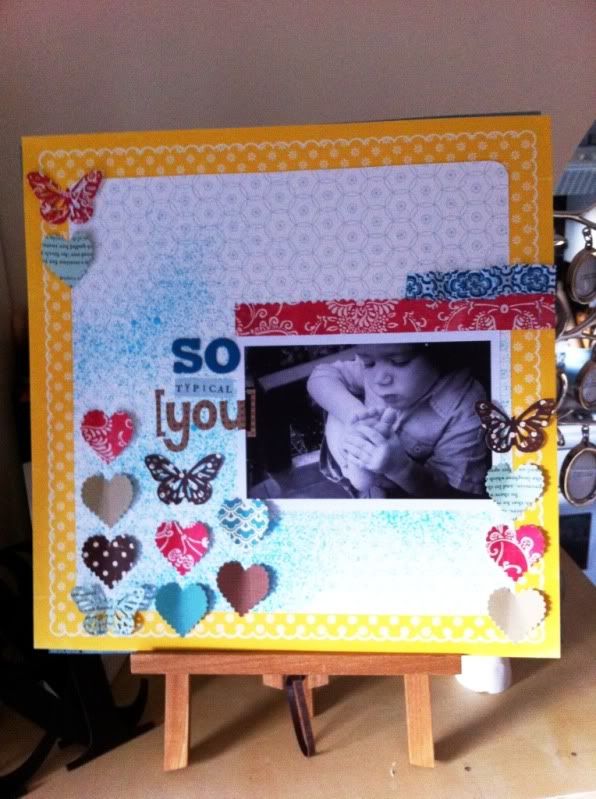 I was obviously on a roll as the next day I scrapped this picture of Alex - and before you ask, no, he is not eating his toenails (gross!), he was kissing his foot better after catching it on his chair. Bless 'im! This was inspired by a Page Maps layout from November I think it was. The paint was sprayed on using a mixture of acrylic paint and water and using an old body spray bottle. It didn't come out as fine as the gorgeous Mister Huey mist paints I have spied on friends' layouts recently, but I simply can't afford their lovely Studio Calico kits or to buy a single mist paint at about £22 for one to be shipped to the UK just yet - more on that in a mo.
Taken at knit night tonight. I am loving working in the city again, I love my new work place, the people I'm training with (even if they are all younger than me by 5+ years!) and the fact the shops are just minutes away if I need or want anything (I work near enough to go in if I need something, but not too close that I'll be tempted to shop my entire wage packet away lol!) Oh and being just minutes away from knit night after work is a major bonus!
In other, bad, news, that little knock to my car wheel in the snow a couple of weeks back has gone from being a £60 replacement tyre job to a HUGE mega expensive repair to the gear box and clutch, probably not caused by the bump, but as my car is only recently out of warranty and I haven't worked in two months so am not exactly flush with cash right now I am not very impressed. I don't yet know the exact damage money-wise, we're talking £250 for just the labour involved in getting the gear box out and back in, plus repairs / a replacement (oh no, I'm going to cry again). So guess where my entire first wage has gone, plus a whole lot more that we can't afford (that's it, I've gone). I need my car to get to work, pick up the kids, take the kids out for the day on my days off, etc etc, and I'm still paying the finance, so there's no option but to somehow find the money, but in the meantime it's causing me many sleepless nights. And that's probably the reason I haven't blogged, I haven't felt able to come on here and be all cheery about crafty stuff - although I realise I have only partly done that before pouring out all my troubles on you guys. For that I apologise.
Anyway, if you're still here (well done and thank you if so!), I will now stop moaning. I have a lot to be grateful for, it's just a piece of metal, there are more important things in life I know.
I will keep you posted, but hopefully I will return shortly to share not only bad news car-wise, but pretty well-lit photos too :)
xXx