... makes Natalie a very unhappy bunny. But that's the way it is this month at work, I'm either working (crazy long hours) or trying to make little bits of time here and there for my poor neglected boys. It's pretty rubbish.
Despite this I have managed to make some progress on
Lauriel
, not as much as I would have liked or thought I would have by now, but it's certainly not to be scoffed at. So I thought I'd pop on and share with you all, seeing as once again, already, it's
WIP Wednesday
!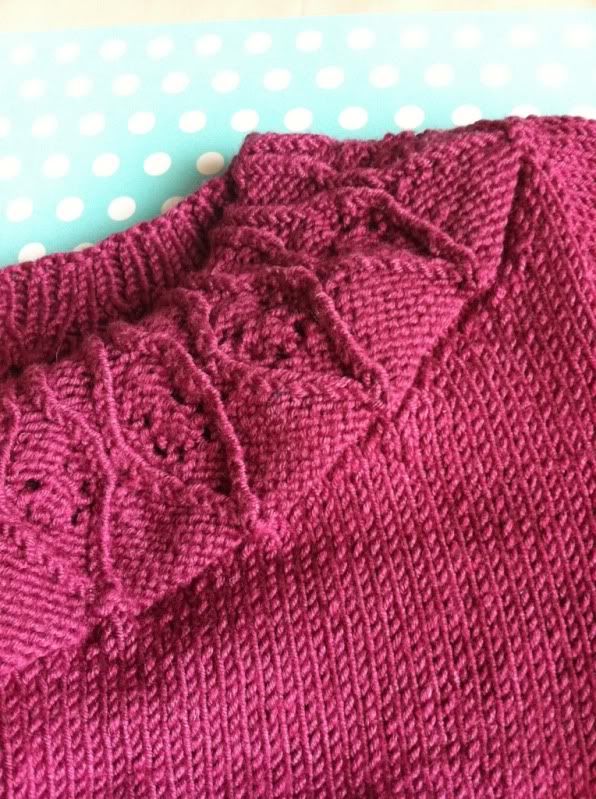 Colour most accurate on this last photo - rhubarb not purple!
As you can see I have cast off the whole body section, hurrah! I'm going to knit the border next, and then I can use the rest of the yarn left to knit the sleeves, hopefully as long as I like them. I'm a bit nervous about knitting the border and sleeves, as picking up stitches and knitting in the round is not my best skill, and I really don't want to muck this up (again). At least I wouldn't have to frog back the body this time I guess. I think I might wait until I can get a quick pointer from my friends at knitting group, although it's likely I won't be able to go until October because of my long work hours. :(
So in the meantime, to keep me busy and out of trouble, I have cast on my
Tembo
. This is a gorgeous autumn winter cardigan that I hope will knit up a bit quicker than Lauriel, seeing as it calls for aran yarn. It's so blumming cold here in the UK already, I actually neeeeeed it right now!
So that's me, I better get ready for another 10-hour shift at work, groan. Can't say when I'll be back with more updates, but hopefully I'll have something more to show you soon. Thanks for stopping by as always.
Natalie
xXx
P.S. I finally remembered to randomly pick a winner for the lovely Olivia Rubin scarf I promised to give away for my birthday - sorry for the delay. And here's the winner... (drum roll please!)...

Sarah (Crafts From The Cwtch) said...
Lovely FO! It would work with a long sleeved t-shirt in the cold too - very nice!

My favourite fragrance..? The smell of rain on a hot day!

Have a lovely weekend
x
Congratulations Sarah! If you could please e-mail me your address I'll get that out to you asap - although I'll try get in touch this evening in case you don't see this.