Working full time again is leaving me absolutely no time for crafting and/or blogging. Rubbish. But the good news is that once I 'graduate' from training, I'll be starting my chosen shifts, which will leave me a couple of days free during the week. One of which will be a Wednesday, every week. So soon there'll be no excuse for not taking part in Tami's Amis WIP Wednesday every week.
And talking of WIP Wednesday, here it is again, so soon! My photos are lame, but here goes nothing.
This was after just a couple of hours, it's much longer now!
I started the famous
Owls
pattern from Ravelry a couple of weeks ago having admired it from afar for about 18 months. I love how it's turning out, and how quickly the body knit up, but my oh my the sleeves are taking forever and are leaving me very bored. I must keep going though as soon it will be too warm to wear it and I really want to wear it this winter.
First sleeve done, finally!
I've also just been and bought the wool to make another
baby boy's V-neck vest top
, this time for my sister and my little nephew who is due to be born in only a few weeks time. Yikes. Where has the time gone?!
What else have I been up to? Not much really. I've either been working or trying to make up some quality time with the boys. We had an action packed Saturday last, which saw us all getting a long-overdue haircut each, visiting family, lunching and seeing Tangled at the cinema (which totally rocked, I absolutely loved it!). I also spent a couple of hours knitting in the company of this gorgeous little fella...
Such a lovely, beautiful baby. But blink, and very soon he'll look like my baby...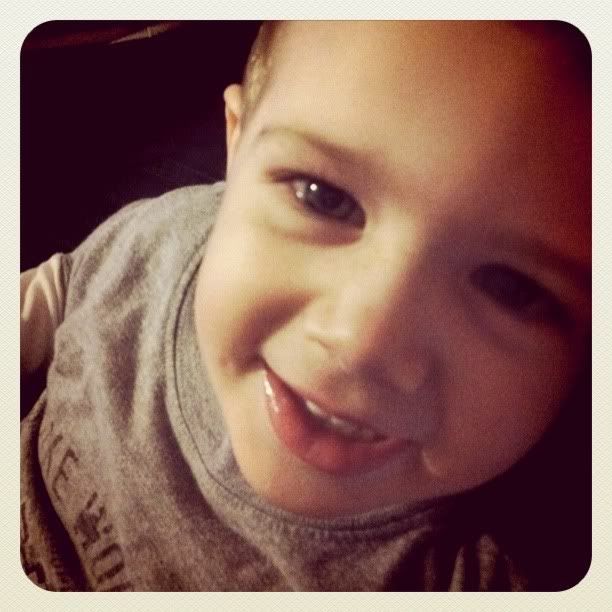 Gosh, he's looking so grown up!
Right, better get some sleep, I'm hating these early, dark mornings, and late nights don't help!
Chow for now.
N
xXx